Bus Advertising Throughout the North West
Let Us Drive Your Message Home With Bus Advertising Across The Region
Advertising on buses has evolved tremendously over recent years with the introduction of fully wrapped wrapped buses. With full window coverage and utilising the latest high quality vinyl wraps we can offer photographic quality images and colours that remain vibrant to make your bus advertising really 'pop'!
Further enhanced by the high-tech contra-vision window covering, our fully wrapped bus advertising gives your campaign the WOW factor by delivering a far greater impact and, therefore, a higher return on your investment.
Buses are seen everywhere! With our expertise your company could be too!
That is the power of bus advertising.  It's a high frequency medium, it's captivating, has immediate impact and guess what – it's also affordable!  Your return on investment is key so we deliver on all levels by having campaigns designed to suit every budget.
Creating Eye-Catching Advertising
PSV Media provide creative and eye-catching bus advertising to engage your target consumers in a direct and effective way.
Fully independent, we specialise in large format and dazzling creative solutions.
We offer the best and most dynamic service in the North West.
Maximum Exposure
• Return On Your Investment
• Endless Creative Options
The Flexibility of Press
...with the massive impact of outdoor!
10 Reasons to use Bus Advertising
There are so many great reasons to use PSV Media for your bus advertising - here are our 'Top 10'.
1. Scale
Our campaigns are designed to suit every budget and generate repeated exposure throughout the day, reaching millions with broad coverage and targeted capabilities. Our team are on hand to construct your campaign with options available to suit any budget in a choice of locations, sizes and formats.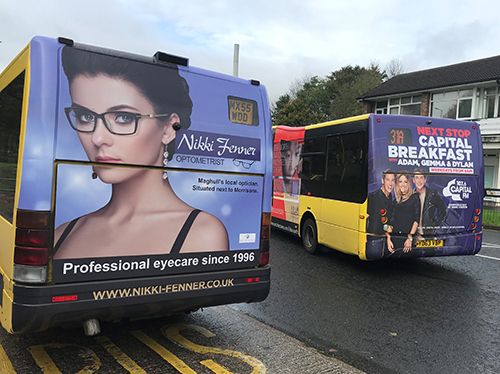 2. Mobility
Create a high impact moving message with an advertisement that goes where the people are. So whether your campaign is designed to boost sales or generate website hits we can offer a tailor-made campaign that is guaranteed to produce real results.
3. High-frequency Medium
When it comes to visibility, no other advertising media can achieve so much. Powerful and influential choices are available to drive your message home with maximum repetitive exposure and visibility.
4. Strong High Street Presence
Our buses offer excellent opportunities for high street campaigns, and targets both drivers and pedestrians. Deliver powerful and unique messages to customers who are 'ready to buy' today.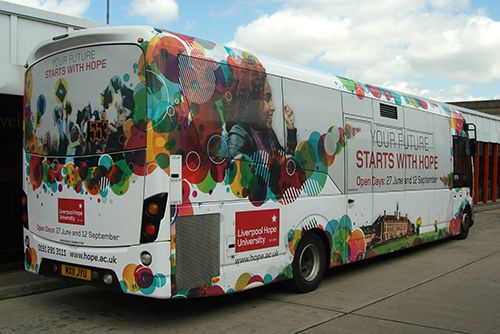 5. Route Planning
Our team of route planning specialists enable you to reach your specific target audiences and create locally focused or city-wide campaigns.
6. Instant Recall
Direct your message to people on the move with tremendous impact. Research shows that a high percentage of people welcome and recall bus advertising that they have seen, making it the number one choice for brand builders.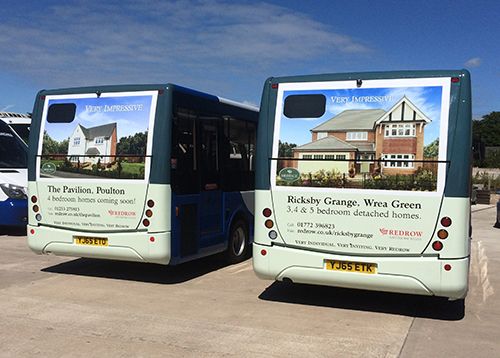 7. High Levels of Response
Direct your brand messages towards specific audiences in key business, shopping and suburban areas. From the busy office workers in the City Centre to high street shoppers, our campaigns place you centre stage in front of your chosen audience.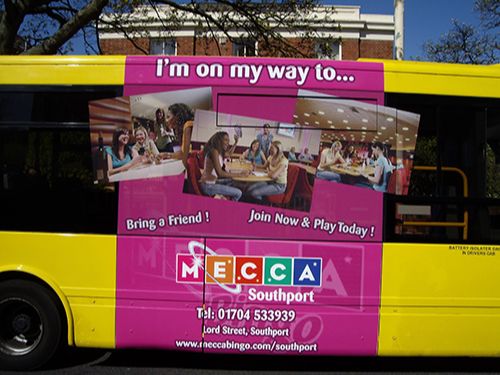 8. Premium Formats
With five formats to choose from, our options offer massive flexibility. From full sides to bus backs PSV Media can help you to identify the correct formats to suit your campaign.
9. Flexibility
We are always here to advise on the best solutions for you and your business using our team's expertise in bus campaigns. We understand that targets need to be met and things can change, so can be flexible in our delivery of campaigns.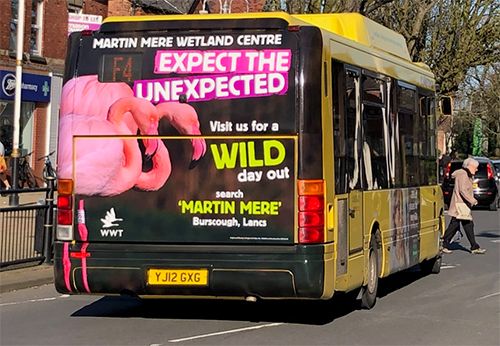 10. Creative Formats
A variety of high-end creative large format opportunities are available from wrapping the sides or rears to more subtle yet unmissable creations. With our fresh and innovative approach to campaigns that captivate, simply call us today to begin the story of your stand out campaign.
Our Clients Benefitting from Bus Advertising
We have helped some of the UK's most influential brands to achieve new levels of exposure using bus advertising.